MANILA, Philippines — Labor and Employment Secretary Rosalinda Dimapilis-Baldoz reminded employers to observe the proper wage rules and core labor standards on August 21, declared a special non-working day across the country.
"Proper observance of the pay rules on a Special Non-Working Day strengthens decent work and encourages productivity. Voluntary compliance of companies with this labor standard is good business practice," Baldoz said in a statement Wednesday.
President Aquino declared the date to honor the martyrdom of his father, Senator Benigno "Ninoy" Aquino Jr. under Republic Act 9256.
– If the employee did not work, the "no work, no pay" principle shall apply unless there is a favorable company policy, practice or collective bargaining agreement (CBA) granting payment on a special day;
– For work done during the special day, he/she shall be paid an additional 30 percent of his or her daily rate on the first eight hours of work [(Daily Rate x 130%) + COLA);
– For work done in excess of eight hours (overtime work), he/she shall be paid an additional 30% of his/her hourly rate on said day (Hourly rate of the basic daily wage x 130% x 130% x number of hours worked);
– For work done during a special day that also falls on his/her rest day, he/she shall be paid an additional 50 percent of his/her daily rate on the first eight hours of work [(Daily rate x 150%) + COLA); and,
– For work done in excess of eight hours (overtime work) during a special day that also falls on his/her rest day, he/she shall be paid an additional 30% of his/her hourly rate on said day [Hourly rate of the basic daily wage x 150% x 130% x number of hours worked
Malacanang's Official Gazette also released an infographic simplifying the holiday pay matrix: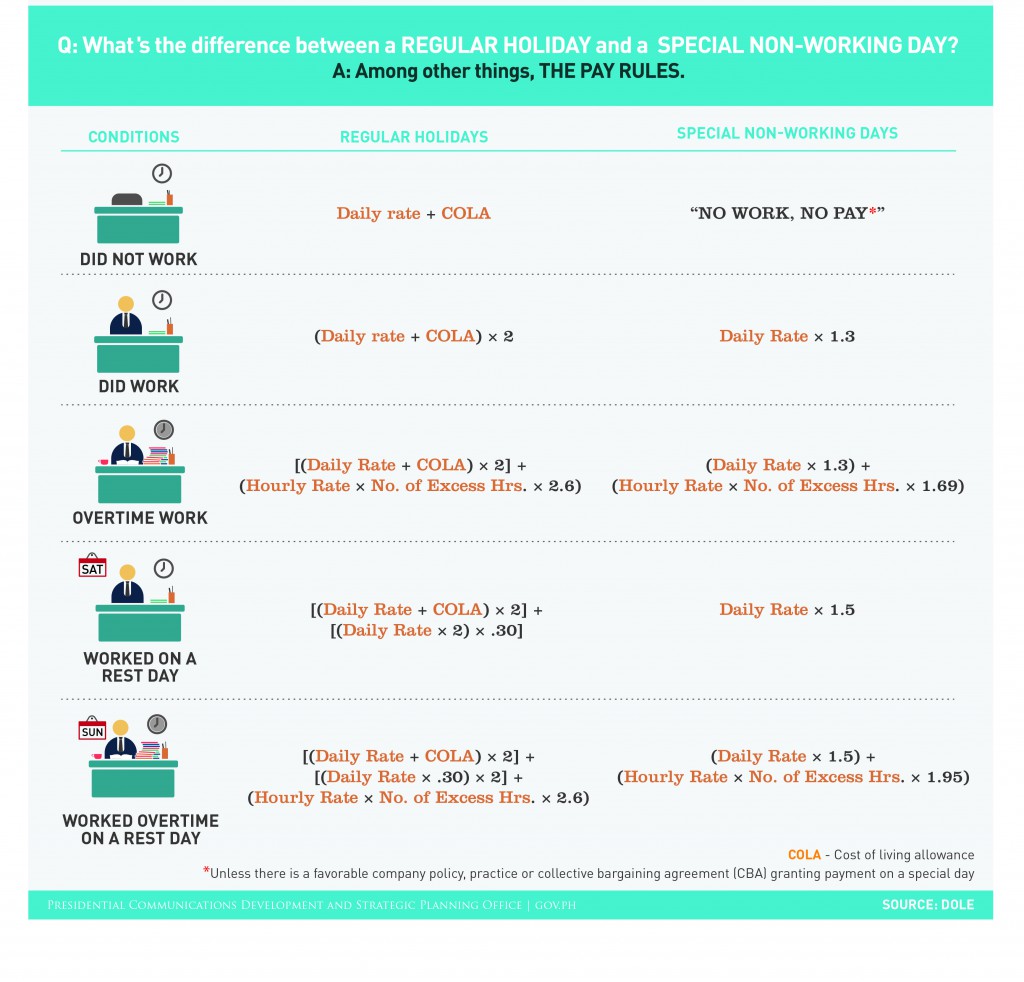 source: philstar.com
(Visited 1 times, 1 visits today)